Thursday, May 02, 2013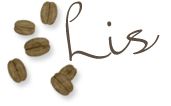 Day 2: Morning Ritual
My Morning Ritual is coffee, whether it's from home or Starbucks. Today? it was Starbucks.
To keep my mind off things and to stay busy, I'm doing a photo a day on Instagram. Do you follow me yet??? You must! I'm lissyk_ Now granted you will be bombarded with pictures of my dog, kiddo and coffee but Hey! It's fun!
First This is the Photo A Day list by Fatmumslim
Day 1: I bought this!
My friend KT had a party at the perfect time. I had plans for a few bags and I wanted the duffle. So of course I HAD to buy it. I have a thing for
pink
lately and I will be traveling a lot on weekends to see friends all over the east coast so now I have a pretty pink bag to do so!
As usual things are hectic in my life and everything has been turned upside down. I want to keep blogging but of course now I need to watch everything I saw just in case. So for a while, I'm staying low key. I do miss blogging so I will try to be around as much as I can.

Miss you all!
Wednesday, April 03, 2013
Finally after everything that I went thru over the last 18 months, I got the all clear from my oncologist. So blessed.
Friday, March 29, 2013
After having a bit of a .... well let's just call it a "moment" at work today, i reminded myself what someone told me about 2 years ago. Look for the positives in every situation. I know most don't believe in the everything happens for a reason line but I do. About 1 1/2 years ago I was doing well trying to find the positives in my life and focus on them instead of the negatives. Of course life has a way of throwing speed bumps at you and I started focusing less on the positive and more on the negative.

I need to stop that and change my way of thinking again.

I know I thought I was getting better, i have my daily devotional that I do in the mornings and I try to start my day on a good note yet I still let those negative influences affect me. I'm not sure why today, at 3PM my brain said STOP! Look at what you are doing! Enough already!

So starting over today... I am looking for the positives in the situations that life keeps putting me in. Life lessons are all around us and I'll keep pushing my way thru.